Kala Farnham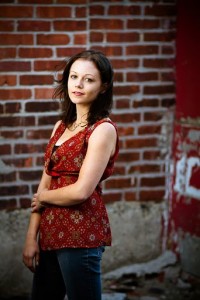 "She evokes, in me, feeling reminiscent of my first first encounters with a James Taylor, a Janis Ian or a Sheryl Crow. Honest and delicate musings coupled with authorities well crafted vocals and lush instrumentation, a quality of production that stirs the heart and Goosebumps the flesh." – Musician Ed Talbot
With a broad array of musical influences, Kala's songwriting caters to a wide audience, characterized by elements of folk rock, pop, and jazz. She has been praised for her intricate piano work, enlightening yet relatable lyricism, and pleasantly versatile vocal styling. She cites her classical background as a prominent influence, inspired by the passion of the romantics, the musical landscapes of the impressionists, and the bold experimentation of 20th century composers. Of modern day pianists, she is most impacted by Kate Bush, Regina Spektor, Billy Joel, and Tori Amos. She draws influences from the insightful lyricism and traditional songwriting style of 70s folk artists Joan Baez and Joni Mitchell, coupled with production inspired by the musical arrangements and lush orchestration of artists such as Sleeping At Last (Twilight movie soundtrack) and Radiohead.
Kala has shared the stage with rising artists Brian Jarvis (supporting act of Sister Hazel's 2010 tour), Mikey Wax (CBS's Ghost Whisperer soundtrack, iTunes top 100 pop chart) and Dave Munro of Air Traffic Controller ("Best Indie Rock Act" of the 2010 Boston Music Conference). She has appeared at such venues as The Bushnell's Autorino Hall, Six Flags New England, and the Dubliner at Mohegan Sun Casino.  In addition to performing, Kala works behind the scenes in live and studio music production, learning the ins and outs of the music business. In 2011 she had the opportunity to provide technical support for The Guess Who, Foghat, and Little Big Town at Connecticut's Woodstock Fair.
Kala is available to perform at restaurants, coffeehouses, private parties, or other music venues. Her repertoire includes folk/rock originals as well as classical, standard, popular, and new age/easy listening piano instrumentals. Kala is an experienced accompanist and will play for weddings, studio sessions, and musical theater productions.
•    Bradley Playhouse Talent Show: Best Vocalist & Audience Favorite (2005)
•    Single "Beat" – #1 song in Ourstage.com's Electronic Music competition – May 2007
•    "Top 10 Albums of Year" (Naked Honest: Kala Farnham Live 2009) alongside Robert Plant, Jeff Beck, Grace Potter – Paul Rosano of thetrickismusic.com
•    Boston's "Steve Katsos Show" featured performer 2010
•    Boston's "Big Sauce Radio" featured performer 2011
•    Skopemag.com Artist to Watch (June 2011)
•    Studio keyboardist – Gail Wade's "October Moon" – Signature Sounds Studio, Ashford, CT
Videos/Audio/Media:
www.kalafarnham.com
www.reverbnation.com/kalafarnham
www.youtube.com/kalafarnham